BMW Oil Change in York, PA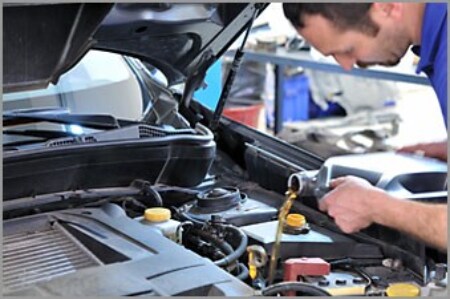 Whether your car or BMW is due for a routine oil change or the light on your dashboard just turned on to let you know the oil pressure is low, bring your vehicle to Apple BMW of York for quick and convenient service. Our team of auto experts will take excellent care of your vehicle so it will continue to run smoothly for years to come. Discover the benefits of scheduling an oil change with us below.
Is your car in need of an oil change? Drop it off at our service center in York, Pennsylvania. You can trust that our certified BMW service technicians will have you back on the road in no time. If you have questions about what type of oil is the best to use in your vehicle, what specials we currently offer, or how much an oil change costs at Apple BMW of York, just ask one of our team members.
We'll walk you through every step of the process to make your next oil change simple. Our service center is open Monday through Friday from 7 a.m. to 6 p.m. and on Saturdays from 8 a.m. to noon. We make it easy for you to find a time that works well with your schedule.
Benefits of Getting Routine Oil Changes
Getting your BMW's oil changed regularly is important to keep the engine lubricated and functioning properly. By staying on top of routine maintenance, you can also extend the life span of your vehicle. When you have your car's oil changed, it reduces engine friction, which can prevent premature component degradation, excessive heat, and thermal breakdown. It can also improve your vehicle's reliability, efficiency, and gas mileage, which can save you money when you fill up at the pump.
When To Schedule Your Next Oil Change
How often you need to bring your BMW in for an oil change may vary based on the year, make, and model of your vehicle. We recommend consulting your owner's manual to find out what the manufacturer suggests for your specific car. This can help you determine how many miles or months you can safely go in between oil changes.
Following the guidelines designed for your vehicle ensures that your vehicle's engine is protected. If you're still unsure whether you should bring your car in for an oil change, send us a message, visit our service center in person, or give us a call. We're happy to share our expertise so you can schedule your next oil change or service appointment with confidence.
Schedule Your Appointment With Us Online
Schedule your next oil change with us online to save time. If you're a returning customer, type your phone number or email address into our secure online service appointment scheduler to get started. Then, choose a date and time that works well for you. If you need to reschedule an upcoming service appointment, you can use the same method to select a new date.
New customers can also use our convenient online scheduling tool. Simply answer a few basic questions about the make and model of your vehicle, share your primary contact information, and let us know what service you're interested in. Then, select a date and time that works well with your schedule to confirm your appointment. If you need a courtesy vehicle while your car is in our shop, let us know and we'll reserve a BMW for you to use.
Get Free Service Pickup and Drop-off
If you don't have enough time in your busy schedule to drop off your vehicle for service, don't worry. We offer our customers personal concierge service as long as they live within 30 miles of our dealership in York. Let us pick up your BMW at your home, office, or another designated location. We'll leave a loaner BMW in its place for you to use and drive your car to our service center.
Once we've completed our vehicle's oil change, we'll promptly return it so you can get on with your day. To use our complimentary concierge service, simply select this option when scheduling your appointment online or over the phone.
Take Advantage of Our Great Deals
You'll find some of the best deals on oil changes and other auto services at Apple BMW of York. Browse our service and parts coupons online to see what discounts we currently have available. We do our best to offer competitive rates and provide extra incentives to make sure our maintenance and repair services are affordable for all of our customers. Sift through our lineup of the hottest deals available, including coupons for oil changes, tire rotation, fluid exchanges, and more.
Once you find a coupon you want to use, click on it to review the specific offer details. Then, show the coupon to us when you drop your vehicle off for your next auto service. We'll automatically apply the discount toward your service so you get a fantastic rate when you check out. It's just one of the many benefits of working with our team at Apple BMW of York.
Sign Up for the BMW Ultimate Care Oil Service
Pre-pay for your oil changes to get an even better deal. With the BMW Ultimate Care Oil Service, you can ensure your vehicle remains in tip-top shape. 
For just $199, you get 3 years of unlimited oil and oil filter changes using genuine BMW oil and parts. 
This program is open to any BMWs that are at least 60 months old or have reached 60,000 miles. Ask one of our BMW service advisors about this fantastic program. Enroll today to start saving money on your routine maintenance services.
Do you have questions about how to schedule your next oil change or what other types of services we offer at Apple BMW of York? Send us a message, visit our service center, give us a call at 877-361-3012. One of our friendly team members will be happy to assist you.
QUICKLY SCHEDULE YOUR NEXT OIL CHANGE ONLINE WITH THE FORM BELOW, RIGHT NOW!