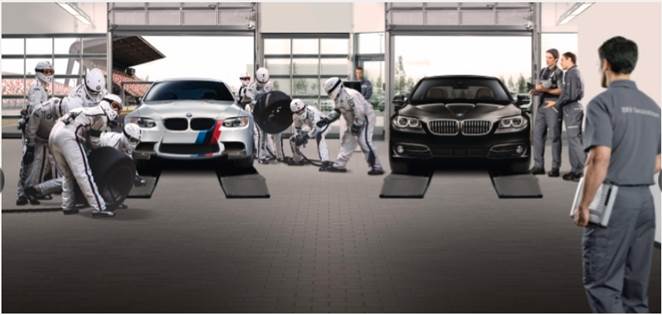 OUR RACE EXPERIENCE.
YOUR PERSONAL PIT CREW.
BMW FASTSERVICE®
BMW FastService is here to meet your basic & essential BMW service needs, including oil, brake and tire changes. Once you walk inside, you're guaranteed to be walking out and driving off of our lot in less than 1 hour.
Apple BMW employs BMW Trained Technicians and uses only 100% Original BMW Parts. To learn more or schedule your appointment, please contact the Apple BMW Service Department in York PA at (877) 361-3012
THE FASTSERVICE MENU:
▪ Oil Service
▪ Air Filter and Microfilter Check and Replacement
▪ Front and Rear Brake Pad Change
▪ Halogen Light Bulb Replacement (Non-Xenon, Non-Laser)
▪ Individual Tire Replacement
▪ Wiper Blade Replacement
▪ Brake Fluid Flush
BMW FastService available only at participating BMW Centers.